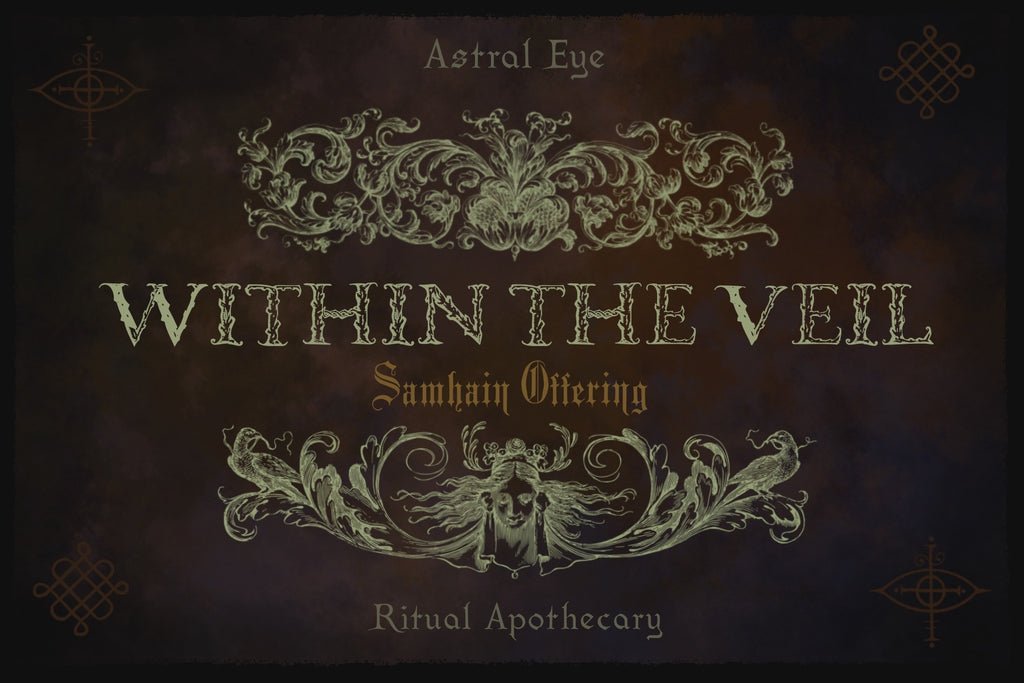 Within The Veil 'Samhain Offering Box' PREORDER
Only 20 boxes are crafted each year. 
   Samhain, also known as Halloween or the Witches' New Year, is a sacred and powerful time in the wheel of the year. Falling on October 31st, it marks the end of the harvest season and the beginning of the darker half of the year. Samhain is a time when the veil between the physical and spiritual realms is believed to be at its thinnest, allowing for easier communication with ancestors, spirits, and the other. It is a time of remembrance, honouring those who have passed on, and seeking guidance from the wisdom of the otherworld.
   Samhain is a time for introspection, shadow work, and embracing the cycles of life and death. It is a time to release, to let go of old patterns and to make space for new beginnings.
   Traditionally, bonfires were lit to ward off negative energies and to provide warmth and protection during the dark winter months but in modern times not all of us have access to outside fire settings so a beautiful hand crafted candle shall do! Today, Samhain is celebrated with rituals, divination, feasts and connecting with the dead .
   It is a time to honour the mysteries of life and death, to connect with our ancestors, and to embrace the transformative power of the season.
The Samhain Offering Box Includes:
Ritual beeswax pillar candle
Sacred Embers Incense 
Ancestors Whisper Anointing Perfume
Beewax Ritual Ignitors (long thin beeswax candles)
White Candle
Psykhe Tea
Ancestral gateway talisman 
Offering Pouch
Carnelian 
Stickers and info card
Samhain Print from Meyechael
and what has become a tradition, November 1st cleansing and mourning ritual. 


In the twilight's embrace, Samhain draws near,
A time of magic, when spirits appear.
The veil between worlds begins to thin,
As ancient traditions and rituals begin.
The ancestors whisper, their voices so clear,
Guiding us through this sacred time of the year.
We call and welcome, in the moon's gentle glow,
Celebrating the spirits, as they come and go.
The harvest is gathered, the fruits of our toil,
Gratitude fills our hearts, as we tend to the soil.
We honor the cycle of life and death,
Embracing the darkness with every breath.
The spirits of loved ones, long gone from this plane,
Return for a visit, to ease our heart's pain.
Samhain, the time of reflection and release,
Letting go of what no longer brings peace.
Embracing the shadows, facing our fears,
As we welcome the wisdom of the passing years.
In this sacred rite, we honour the spirits with grace,
As we tend to the eternal flame, In this hallowed space.
Hail to your Spirits and the land you
---
---
More from this collection